Reports of our imminent economic demise are exaggerated
'Debt-trap diplomacy.'
It has a nice ring to it, you've got to admit. The bookended Ds and Ts create a pleasing syncopation that makes it trip lightly from the tongue.
But in Vanuatu at least, there's no evidence that it's an actual thing. In fact, our latest fiscal and financial figures are showing that our debt is not likely to trap us at all, even in the worst-case scenarios.
Foreign policy notwithstanding, income from China has put this country in the strongest economic position it's been in, arguably since this young country was born.
The government of Vanuatu has been running significant fiscal surpluses for a few years now. This has allowed it to accumulate a cash reserve that the Daily Post estimates to be in excess of VT 6 billion.
Its fiscal position is so strong, the Department of Finance and Treasury has begun paying down debts ahead of schedule.
In its half-year fiscal and financial report, DoFT announced:
"For the first time the Government has begun reducing debt levels by prepaying loans. This was planned last year due to improved fiscal conditions. For the first 6 months of this year, in total domestic debt has been reduced by more than 20% (VT 1.4 billion). External debt has also been reduced significantly targeting over VT 1.5 billion. By end of year, around 6 or more loans will be paid out in advance (4 have already been paid out this half year). The paid out loans belong to the Asian Development Bank (ADB) and Exim Bank of China. Other smaller loans from the World Bank are targeted as well."
If countries want to trap us in debt, they'll have to dig the pit deeper.
Inevitably on hearing this news, more than one Canberra wonk will lean back in his chair, raise a brandy snifter to his nose, and announce, 'Mission accomplished. They've taken our advice.'
And if they were giving it back in 2013, they'd be right. Because that's when efforts began to mitigate the 2020 cash flow crunch. Finance officials state that even though there have been draw-downs in recent months, no new loan agreements have been signed since 2016.
Today's fiscal situation results partly from happenstance, partly from strategy. The implications of a happy confluence of circumstances has not been lost on the nation's financial planners, and faced with the decision between being the grasshopper or the ant of Aesop's fable, they chose a little of both.
Record revenues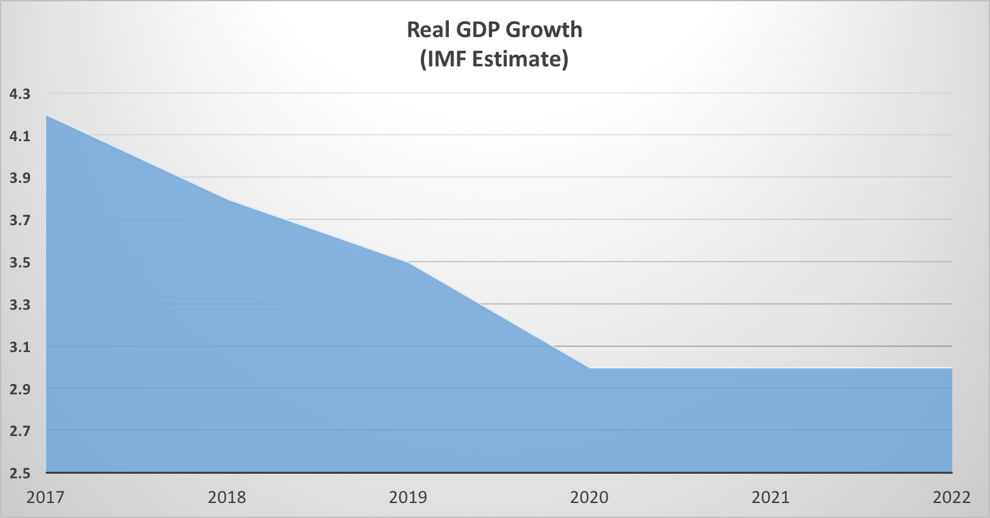 GDP is soft, nearly half a point behind the global average, and two points behind the average for emerging markets. It's small, but positive, and seems destined to remain steady in the mid-term. It's probably a more realistic depiction of the Vanuatu economy. Massive reconstruction projects in the wake of cyclone Pam made it look like the economy was growing rapidly when in fact the service sector was in crisis.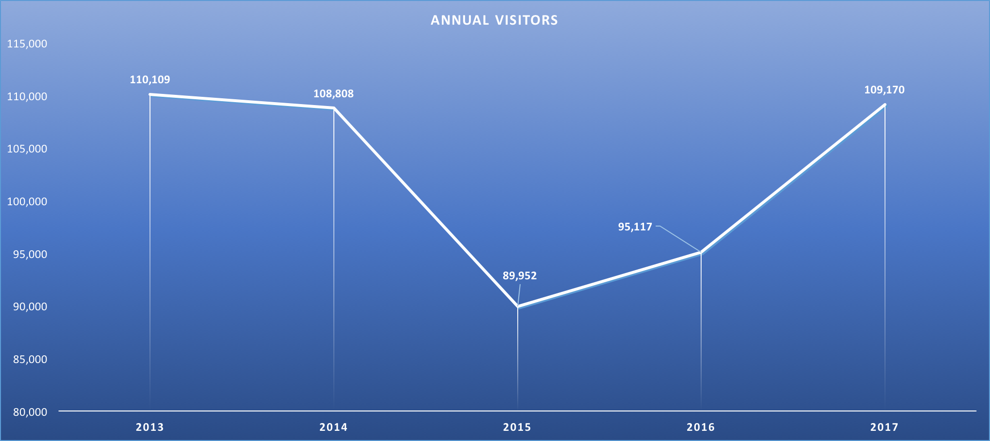 But government revenues are running hot. This year, the country will finally rise above the ruin wrought by 2015's cyclone Pam. Tourism arrivals are at last on track to exceed their 2013 high water mark. People are staying longer, too—averaging nearly eleven and a half days now, compared with slightly more than nine a few years ago.
Revenues are miles ahead of projections. When the VAT was increased at the beginning of the year, tax revenues were expected to rise, but only modestly. Generally, these things take time to manifest. Last time, it took about 18-24 months for income to ramp up. But at the halfway mark in the fiscal year, Vanuatu's tax intake so far this year is more than 7% above budget expectations.
Better processes
Part of this comes from significant investment in the department of Customs and Inland Revenue. Efforts to improve effectiveness are paying off bigger and sooner than expected. Even in 2017, before the VAT increase came into effect, overall revenues were 22% over budget, and 23% above GDP growth.
The shocker, though, was non-tax revenues. Every year since the country began selling passports, non-tax revenues have run roughshod over predictions. Every year, the government has taken the increase in stride and bumped its predictions for the following year.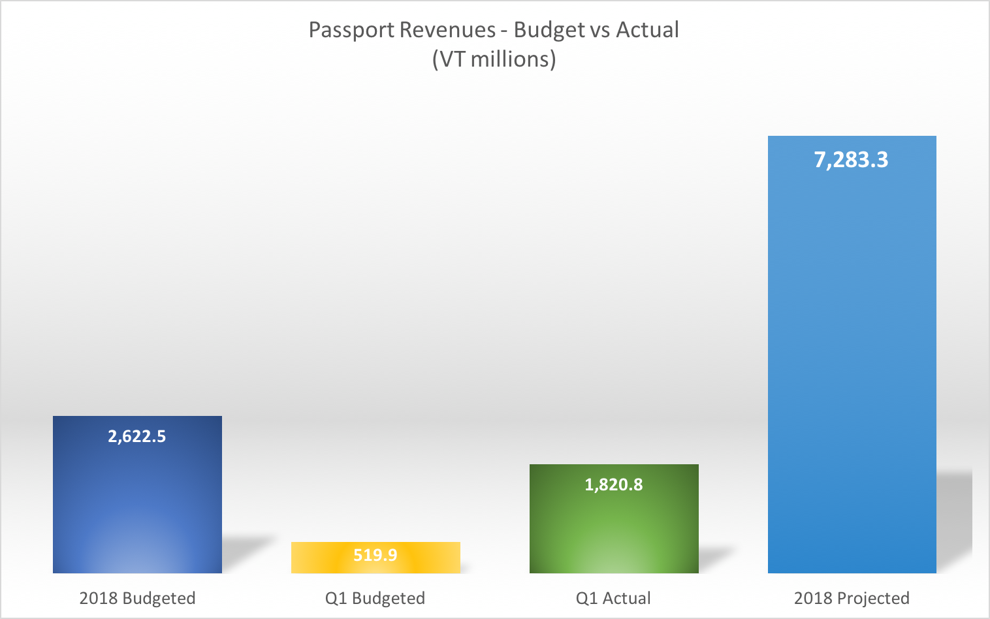 In 2017, passport sales were more than twice the projected revenues, accounting for about 16% of overall government income. This year, they are on track to nearly double again.
Not only do passport revenues neatly cover the impending debt hole; they create a substantial hill that needs to be navigated.
No proper passport policy
This creates some liability of its own. Years after the first programme was instituted, the government of Vanuatu has yet to establish any clear policies around the process, its purpose, and who should be qualified to provide the service. Allegations are rife that connections matter more than qualifications when applying for agent status.
And the fact that agents can subcontract the due diligence process to third parties who are not subject to any scrutiny at all is worrying to say the least. The Daily Post has run a series of exposés on people peripherally involved in these activities, questioning why senior government figures continue to create the appearance of endorsing them, even after questions were raised.
The primary consideration seems to be the ability of the individual to drum up revenue and development assistance for the government, rather than the person's professional or educational qualifications.
Semi-secret agents
One sub-agent, for example, claimed to have expertise and experience in nuclear energy, 'novel inventions', telecommunications, oil refinery operations, and humanitarian coordination activities for something called an 'association of resurrection'. There is no evidence of any impropriety, but the question remains: are these the right people to represent Vanuatu to the global investment community?
Privately, business people and government officials are candid about the liabilities created by these programmes, and sceptical about their long-term viability.
DoFT officials have repeatedly warned cabinet that these revenues cannot be leaned on. Nonetheless, a new spending dynamic has arisen. For three consecutive years, the government has indulged itself with increasingly large supplementary budgets. It has to be stated that the supplementary appropriations are by and large needful things, and have been spent through appropriate channels.
But the process surrounding supplementary spending is more ad hoc than the formal budget creation process, and it creates a dangerous dynamic, in which Finance officials are asked to adjudicate between competing spending proposals. This is clearly counter to Parliament's mandate to set spending priorities.
So far, the decisions have been mostly reasonable, and the government has been sober in how it's disposed of the windfall. It's coming in so fast now that department quite literally cannot spend it fast enough. Finance officials have asked departments to spend what they've already been allocated before asking for anything more.
With solid cash reserves, strict limits on recurring spending, and—for now at least—a moratorium on new loans, it's just not correct to use the phrase 'debt-trap diplomacy'. Not in Vanuatu at least.
And perversely, it's revenues from China that have made that possible.